Turbocharged Bar Stool
This dangerous device is from the creative (?) mind of Tracy Grimm of TG Fabrication in Jacksonville, Florida. www.tgfab.com He seems like a nice enough chap on the phone but some sort of damage must have occured before or after construction...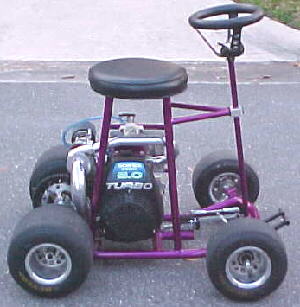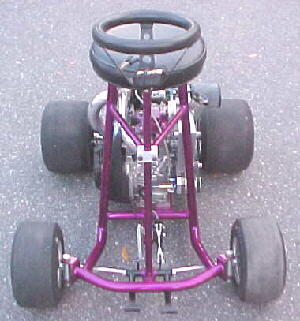 Tracey's top notch fabrication skills are clearly showcased on this creation. Apparently built as a result of a dare by friends, the chassis is constructed from 4130 tubing. Power comes from a Honda 160cc single cylinder engine fitted with an IHI turbocharger. A ceramic coated, 2 inch exhaust dumps the fumes. A custom, billet, belt driven, oil pump was fabricated using Cummins fuel pump gears and Bosch relief valve parts. The fuel tank was hand fabbed from .080 aluminum. Braking is by a Hurst/Airheart hydraulic kart setup with cross drilled rotor.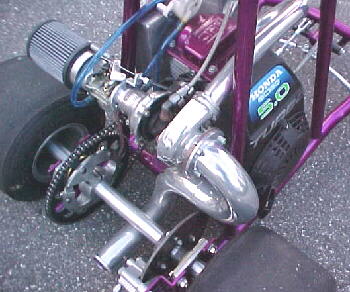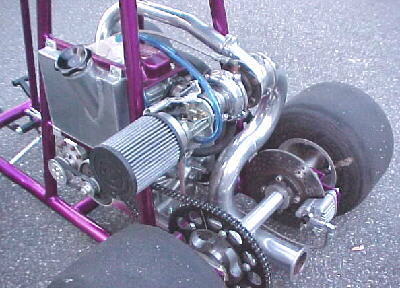 Tracy reports that the stool is easy to drive but very scary. No doubt.
This deluxe vehicle is fitted with the very latest in high tech instrumentation- a fluid filled G meter, capable of measuring forces in all directions simultaneously. F 16 jockeys can only dream about this kind of information being available on their HUDs, although their flight suits might be slightly drier after use.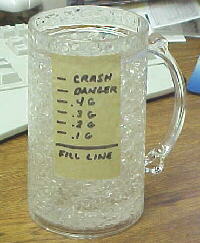 Vital Stats
Top speed- You try it!!!
1/4 mile- Unknown
Max cornering G- Doesn't remember (that pesky bump on the head)
Stopping distance from 30 mph- OOOOOHHHH!!! That must have hurt!!!
Although technically legal to drive inside bars, we can't recommend this one, even when sober. On second thought, I can see it now, get five F1 and five CART drivers to shoot it out on these. Cover it on ESPN. Full body armor and long insurance waivers would be a prerequisite. Think of the ratings...