Toyota 4AG Trueno Turbo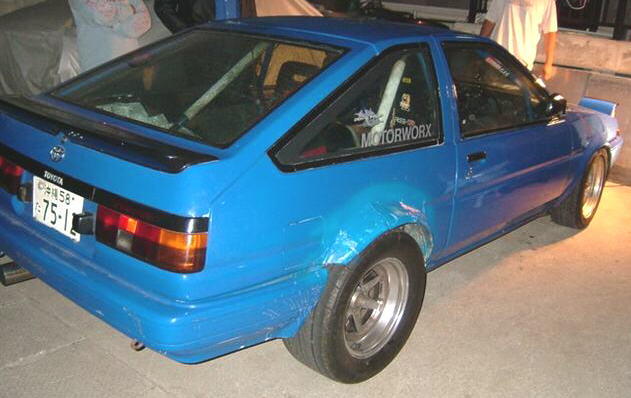 This Toyota AE86 Trueno is owned, built and tuned by Will Mercado in Okinawa, Japan. The body is in serious disrepair and was chosen because of the low cost (free) and the rear drive layout. It was home for a 500hp 4AG belonging to the previous owner, so it was the perfect donor! Inside is completely gutted with the exception of the dash cover, two seats, and a six-point cage.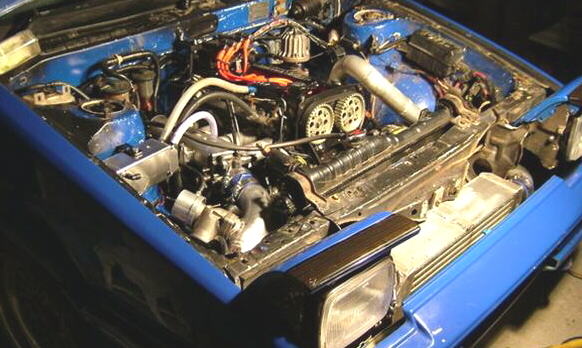 The Toyota 4AG engine mods are as follows: 4AGZ stock block and crank, CP 81.5mm pistons w/ Total Seal rings, Pauter billet connecting rods, ARP studs top and bottom, HKS 1mm head gasket, 304 degree 8.5mm lift cams, intake and exhaust, Toda valve springs and Toyota Vitz shimless lifters, Extensive port and combustion chamber work (based on Motorworx design), AGP GT61 Turbocharger with P trim .56 exhaust, HKS cast T04 exhaust manifold and 48mm waste gate, Motorworx custom intake manifold, ARC Super Intercooler (4 inch core).
Engine management is SDS EM3-4F with V14 chip driving 1000 cc/min Denso injectors and the stock 4AGZ coils. Tuning was done with a WMS wideband mixture meter.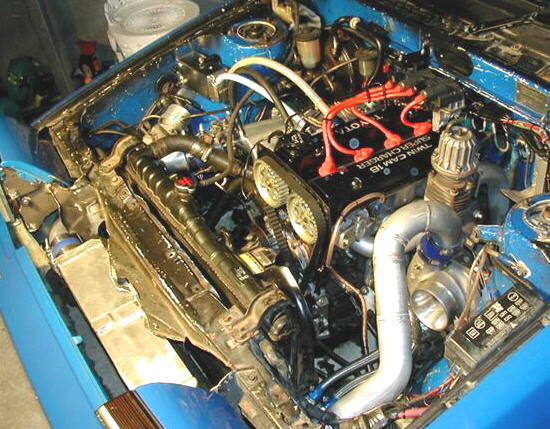 The clutch is an OS Giken twin plate transferring power to a Toyota W58 Supra transmission, made to fit by Motorworx. The rear differential is a Toyota 7.5 with a 3.9 final, from another old Toyota.
Even with three people in the rear hatch, the tires smoked on the dyno at 8000 rpm. You can also see this as the sudden turndown in torque and hp at 8000 rpm on the dyno sheet, even as the boost continues to climb to 1.9 bar. This pull shows 492 hp, corrected, and 452 uncorrected wheel hp at 1.7 bar of boost right before the tires slip. The engine makes max power between 9500 and 10,000 rpm. It revs to 11,000 rpm at the shift. Four people were loaded into the hatch for another pull, but the #1 cylinder split top-to-bottom, exploding the radiator. On teardown, there was no damage to the engine internals or head (other than the cylinder!). During tuning, the engine saw a max of 2.5 bar of boost and Motorworx estimates around 550 whp. Will and the engine/drive train are on their way to their new home in Las Vegas, NV. He'll be on the strip as soon as he finds a suitable car for the setup.