Engine Type/ Required Control
4 Cyl.
6 Cyl.
8 Cyl.
Don't need ECU controlled ignition
4D
6D
8D
Need ignition control, engine has distributor
4E/MSD
6E/MSD
8E/MSD
Need distributorless ignition control
4F
6F
---
Common Applications
Below are some of our most common applications and system fits.
Acura/ Honda
1.6, 1.7, 1.8, 2.0, 2.2L Civic, Integra, Prelude 4 cylinder- 4E, 4F
BMW
1.6, 1.8, 2.0, 2.3, 2.5L E30, E36 3 series 4 cylinder - 4E, 4F
2.5, 2.8, 3.0L E30, E36 3 and 5 series 6 cylinder - 6E, 6F
Dodge/ Chrysler
2.2, 2.5, 2.6L 4 cylinder- 4E, 4F
V8 engines 8E,
Ford
2.0L Zetec, 2.3L turbo 4 cylinder- 4E, 4F
2.5L, 3.0L, 3.8L V6- 6E, 6F
302, 351 V8- 8D, 8E,
GM/ Saturn
1.9, 2.0, 2.2L 4 cylinder- 4F
2.8, 3.4, 3.8L V6- 6F
350-502 V8- 8D, 8E, 8F
Mazda
1.6, 1.8, 2.0, 2.2L 4 cylinder- 4E, 4F
Wankel 12A, 13B 2 rotor- RD
Mitsubishi
2.0, 2.6L 4 cylinder- 4E, 4F
Nissan
1.6, 1.8, 2.0, 2.2, 2.4L, L, Z, CA, KA, SR series 4 cylinder- 4E, 4F
2.4, 2.6, 2.8, 3.0L L, VG series 6 cylinder- 6E, 6F
Porsche
2.0, 2.5, 2.7L 914, 924, 944 4 cylinder- 4E, 4F
2.0- 3.6L flat six 911 - 6E, 6F Twin plug optional on 6F
Subaru
2.0, 2.2, 2.5L EJ20, EJ22, EJ25 4 cylinder- 4F
3.3L EG33, 3.0L EZ30/36 6 cylinder- 6F
Toyota/ Lexus
1.6, 1.8, 2.0, 2.2, 2.4L T, A, R, S series 4 cylinder- 4E, 4F
2.8, 3.0L M series 6 cylinder- 6E, 6F
VW
1.6- 2.7L air cooled flat 4, 1.6-2.0L water cooled inline 4- 4D, 4E, 4F
VR6 6 cylinder- 6F
Volvo
2.0-2.3L 4 cylinder- 4E, 4F
These are the most common applications but we have supplied systems for most popular engines. If you don't see your engine listed here, just contact us to see if we have a system for you.
For a wide variety of engines and cars fitted with SDS units: Project Page
---
Connections and Wiring
The EM-5 ECU uses 4 connectors arranged on one side. The left plug is for injector drive wires and options. The DB25 connector is for sensor, ignition trigger wires and ECU power. The DB9, 2nd from the right, is for the Hall sensor connection and the far right DB9 is for the LCD programmer. Complete main wiring harness and injector harness are supplied, made to your custom specs if desired along with Hall sensor and LCD programmer cord. Standard main harnesses and injector drive harnesses are 6 feet long from ECU to most sensors, Hall sensor cables are 7 feet standard. Programmer cable from ECU to programmer is 6 feet. Please note that there will be a $42US additional charge for custom length wiring harnesses and that custom harnesses will usually delay orders an additional day or so.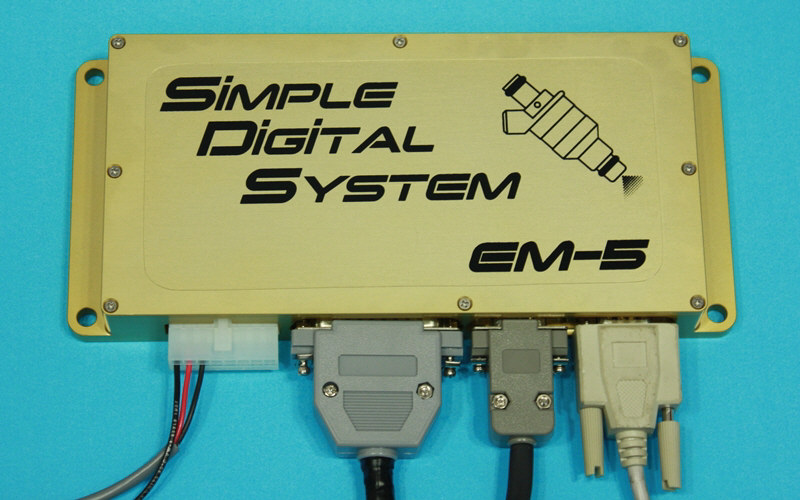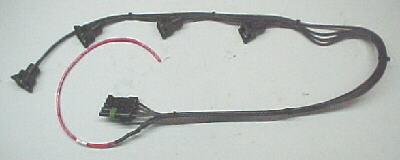 Injector harness is supplied with connectors, made to your specifications Please note that we can only supply D or L-Jetronic injector plugs. Some late model Japaneses engines use oval shaped connectors which we can't supply. These must be grafted onto our harness.
Waterproof Weatherpack connectors as shown below are pre-installed on harnesses.

Options Explained
The options listed on the price list page are additions that you can make to your system or order to enhance its capability or ease of tuning. These are extra cost options, not included in the basic system price.On any options requiring a relay, we recommend the use of ours as these have a resistor across the contacts to prevent noise spikes back into the ECU which may cause ECU resets or error codes. The price of the option includes the relay, wiring and costs to develop the original software for them. We do this to keep costs as low as possible for those not needing the options. If you use all the engineered pieces, you will have the least likelihood of problems.
MAP Sensors

From left to right: 1 Bar, 2 Bar, 3 Bar MAP sensors

MAP sensors are required on most systems to measure engine load. All turbocharged and supercharged engines must use a MAP sensor. Installation is simple, with only a vacuum line connection to the intake manifold and plugging in the harness connector. MAP sensors are supplied in 3 different calibrations: 1 Bar for naturally aspirated engines, 2 Bar for engines running up to 15 psi (1 Bar) of boost and 3 Bar for engines running up to 30 psi (2 Bar) of boost. 1 Bar $73US, 2 Bar $84US, 3 Bar $100US.

Throttle Position Sensors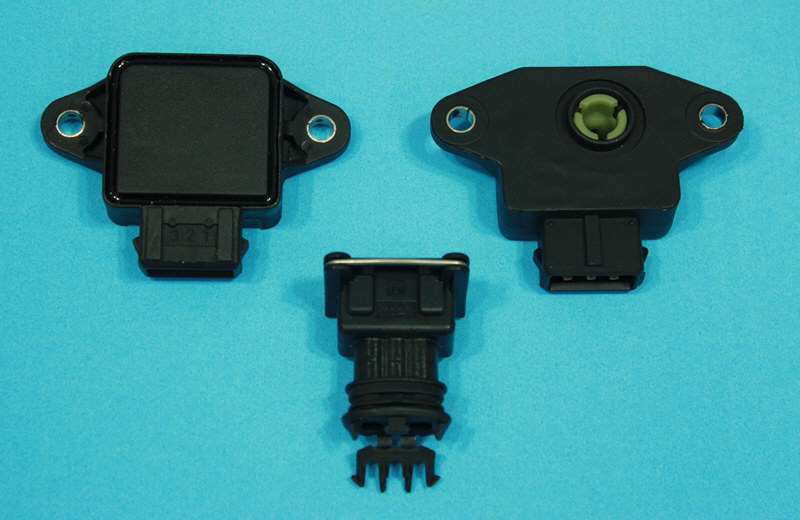 All systems require a TPS for acceleration enrichment. Systems configured for TP load sensing also use this sensor for throttle angle information. Any OEM potentiometer type TPS can be used with SDS. If you don't already have one of these, we can supply one as shown above. These have a 5/16 (8mm) female, D drive. More info and photos are available on the Hardware Page at: tps.htm. $94US
Knock Control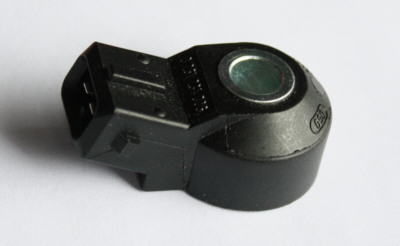 The knock option consists of extra circuitry added inside the ECU, an extra wire and connector on the wiring harness and the knock sensor itself. Knock control allows the ECU to retard the ignition timing on E and F systems automatically if knocking is detected. This is a good backup to the standard boost retard capabilities of the E and F units for many engines but we don't recommend using the sensor as the primary means of reducing detonation. We also don't recommend this option on most air cooled engines or engines which are mechanically noisy as it can be difficult or impossible to tune out this noise while still allowing the ECU to "hear" actual knocking. Our knock control system is compatible with many OE knock sensors used on GM, Mitsubishi, Nissan, Toyota and Subaru engines. Bosch 0 261 321 046 and 0 261 231 001 are also compatible. If you can use the factory sensor, the price of this option is reduced from $120US, which normally includes a Bosch sensor, to $30US. Check with us for compatibility. Complete details on programming and installation of this option are available in the E and F installation manuals online.
Fuel Pump Relay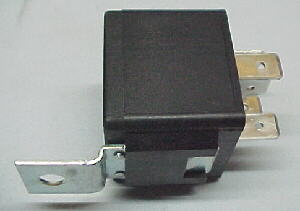 The fuel pump relay option consists of circuitry added to the ECU, a control wire and a modified relay to switch the fuel pump on and off via the ECU. When the ECU is powered up, the ECU turns on the fuel pump relay for 2.8 seconds to pressurize the fuel system. If the ECU does not detect crank rotation within this time, it will shut off the pump until it does. Advantages of this over simply hooking your pump up to the ignition switch are; you don't have the pump running without the engine running which is handy for programming and in the event of an accident, if the engine stops, the fuel pump also stops after 2.8 seconds to reduce the chances of fire. Some racing sanctioning bodies also require this feature on EFI equipped vehicles. On engines originally equipped with Bosch L- Jetronic systems with door type airflow meters, there is a microswitch in the airflow meter used to control the fuel pump. If the meter or wiring harness is removed, you will have to rewire the pump to another power source. This option makes your life easier. $30US
Fast Idle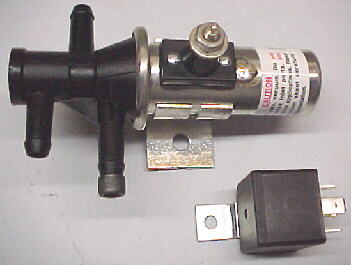 The fast idle option consists of extra circuitry added to the ECU, a control wire, a modified relay and an air bypass solenoid. When the coolant or CHT is below a certain temperature, which is now user programmable, the ECU commands the solenoid to open and bypass aditional air past the throttle plate to increase idle speed. As the engine warms up near normal operating temperature, the ECU closes the solenoid to restore the normal hot idle rpm setting. This option is recommended in cooler climates where warmup time is extended and oil viscosity reduces the cold idle rpm to unacceptably low levels. Scraping the frost and snow off of your car is certainly easier with this option. On most engines, the solenoid allows the engine to achieve between 800 and 1500 rpm during the warmup cycle. Installation requires running 5/16 vacuum hose from the air filter to the solenoid and from the solenoid to the intake manifold. The control system is either on or off. There is no proportional control of rpm. $105US
RPM Relay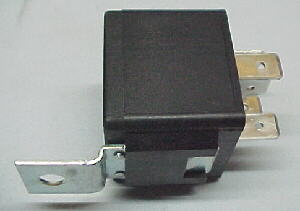 This option consists of extra circuitry added to the ECU, a control wire and a modified relay. This option is popularly used to control variable valve timing systems such as Honda VTEC and Toyota VVT. It can also be used to control variable induction passages such as the Toyota TVIS. A third use is control of a shift light or any other rpm related function. The on/off point is user programmable in 250 rpm increments from 1500 to 9750 rpm. It is a single stage system, so if you program the on point at 6000 rpm, the relay is activated closed above 6000 and open (off) below 6000 rpm. $30US
Electric Fan Relay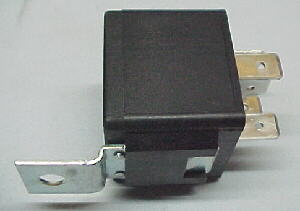 This option consists of a control wire, software and a relay. It is used to control an electric fan via the water temperature sensor. On/off points are programmable but the actual water temperatures are not shown. These points are adjustable between 0 and 255. On/off points are usually set between 20 and 30 with standard GM sensors. Some experimentation is required while watching Gauge 1 mode. $30US
Supercharger Relay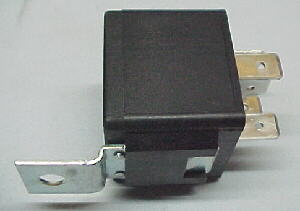 This option consists of extra circuitry added to the ECU, a control wire, software and a relay. It is used primarily to control the supercharger clutch on Toyota 4AGZ engines. On/off points are set by manifold pressure points, user programmable. Relay is normally open at low manifold pressures, leaving the clutch disengaged. As manifold pressure rises to the set point, the ECU closes the relay contacts to energize the clutch. $30US
A/C Solenoid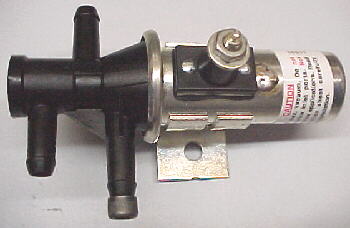 The option consists of an air bypass solenoid of the same type supplied for the fast idle option. This solenoid is hooked up directly to the air conditioning clutch circuit. When the a/c clutches in, the solenoid opens to increase engine idle speed by bypassing air past the throttle plate. This prevents sagging rpm with a/c operation. 5/16 vacuum hose connections to the air filter and intake manifold are required. This option is not controlled by the ECU. As of 03/23/01, we have a method to use the fast idle solenoid to also work as the a/c solenoid so you don't need the additional valve if you order the fast idle option. $79US
---
Older Systems. Which One do I Have?
The series of computer is printed on the top of the ECU- EM-1, 2, 3 or 4. EM-1 ECUs have 2 connectors on the side, EM-2s have 3, EM-3, EM-4 and EM-5s have 4. D systems control fuel only. These usually have no crank sensor but have a green tach wire in the main harness. E systems control fuel and spark with a distributor. These have a single element crank sensor, a blue coil trigger wire and no green tach wire. F systems control fuel and spark and use a coil pack to replace the distributor. These have a twin element crank sensor and no green tach wire on the main harness. The programmer will display series number and type in the bootup mode when first powered up along with software version installed. Please be sure of which system you have before you correspond with us or order replacement parts.
---
| Home Page | Product Specifications | Programming and Installation Manuals | SDS Advantages | Price List/Shipping | Dealer List/Links | Tech Page/FAQ | Project Page | Sample fuel maps | About Racetech | Hardware | Aircraft |