CPI |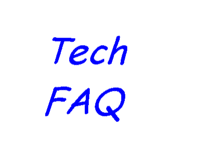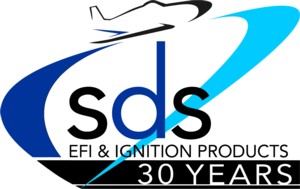 This page deals with some of the common questions that we get asked and features any of the latest updates on SDS products. From time-to-time, we may also publish the latest system and technical updates for our installation manuals.
If you have a question you'd like answered about SDS fuel injection just drop us a note by fax or E-mail to racetech1@telus.net
Racetech Inc
Fax (403) 453-7687



---
Technical Updates
FAQ frequently asked questions

Tech Articles
Tuning on a DynoJet
Sequential Injection Realities
How to Build a Surge Tank
Fuel Pressure Regulators
HP vs. Injector Flow Rate
Tuning Via EGT vs. Wide Band/ Narrow Band Meters
Fabricating an Intercooler
Fabricating a Turbo Header
Start and Warmup Programming
Fuel Values and Cams
Injecting a Lotus Excel
Pushing it Too Far
Injectors
Phantom Problem
Engine Map Examples
Airflow, Fuel Flow, HP Formulae
Hints on Hall Sensor/Magnet Mounting EM-5 and EM-4
How to Fabricate an Intake Manifold
Hints on Hall Sensor/Magnet Mounting EM-2
Ignition Tuning Ideas for Turbos
Tuning TPS Only Systems
How to build a fuel rail
Chips vs. Programmable EFI
How Much Power?
Dyno Thoughts and HP Losses
Intelligent Engine Modifications
Basic EFI Theory
Ignition and Combustion
Fuel Octane vs. Horsepower

---
10/07/09 Injectors not Recommended
MSD 72lb and precision turbo 880cc injectors are not recommended with SDS. These have been shown to have non-linear response on several engines.
08/26/09 Driving Coil on Plug Ignition Systems
We have been able to drive the coil on plug units (fired in pairs) on the following engines:
Subaru STI, EZ30/36, EG33, GM Ecotec, LS V8s, VW 1.8T, Nissan KA24DE, Toyota 1JZ and Honda Fit. Some may require and external driver box while others can be driven directly out of the ECU.
02/03/09 Fuel Pump Relay Mods L-Jetronic Equipped Vehicles
Many L-Jet systems used a microswitch on the airflow meter door to activate the factory fuel pump relay. When the AFM is removed, the fuel pump will no longer run creating a no start condition. You can either sort the microswitch wires together and the pump will run all the time when the key is on or you can use the SDS fuel pump relay option. Certain other L-Jet vehicles use an oil pressure switch activated fuel pump relay. This can also be replaced by the SDS ECU controlled fuel pump relay option if desired.
10/23/08 Programming for Engine Protection- High Engine Temperatures
You can enter a 255 in ET at whatever engine temp you don't want the engine to exceed. For instance if you redlined the coolant temp at 230F, enter the 255 there. This will seriously richen the mixture cooling down the engine and warning you with rough running or an engine misfire.
10/23/08 Switching High Electrical Loads with External Relays
It has come to our attention that some off road vehicles using high amperage, dual cooling fans are experiencing shutoffs of the control relay. The drive circuits are temperature limited in the ECU to prevent component failure. If you plan to switch loads excceding about 20 amps, use the provided 30 amp relay to switch a higher rated relay which would then switch the fans.
12/14/06 Fuel Cut Programming on Deceleration
Some people have siad they experience jerking or bucking on decel when using MAP cuts (1's or 0's at high vacuum MAP ranges). We have found the following to be useful in minimizing this:

1. Don't enter 1's or 0's in the high vacuum ranges. Below the idle ranges of say -18 to -22 inches, enter smoothly declining values about 2-3 lower in each range. Example: -20 value 30, -21 value 28, -22 26, -23 24 etc. right to the highest vacuum value available for your MAP sensor.
2. Check your closed throttle TP value in Gauge 3 mode. If for example, it is 8, enter 9 (one greater) in your TP Fuel cut window.
3. Your fuel will now be shut off whenever your throttle is fully closed and rpm is above 2000 rpm. You should feel the fuel come back on gently as rpm falls below 2000 rpm. This should minimize jerking and bucking on decel.
01/31/06 Air Temperature Values Update
New air temperature correction values. These apply to EM-4 and EM-3 ecu's. New values will give a more consistent mixture over full air temperture ranges.
New air temp value matches the old value at 70 to 75 deg F temp, so new values won't change your mixture at this temperature. New values will lean mixture more than old values, as temperatures get hotter. New values will add more fuel as temperatures get colder.
How to enable access to air temperature values:
EMĖ3, EM-4 SETUP MODE AIR TEMP ACCESS
Unplug hall sensor plug from ECU.
Power up the ECU with the programmer plugged in.

Momentarily ( Ĺ second ) short out pins 6 & 7 on the hall plug port on the ECU using a wire or setup tool (provided by SDS ). See drawing above.
You will see SETUP TEMPSENSOR in the programmer window.
Push the > 4 times until you see SETUP AIRTEMP.
Push the +1 button once to get AIR TEMP ACCESS.
Push +10 to exit setup mode. Now the programmer is back in it's normal mode of operation.
Now scroll by pushing the > button, best to hold it down until the programmer scrolls into the air temperature values.
Note: Aircraft applications we enter default values at the cold and hot end in case of sensor failure. These values should be set to 70.
To hide the air temps from the main programmer screens when you are finished changing the values, repeat the first section until you see SETUP AIRTEMP. Press the +1 button once, then +10 to exit.
SDS AIR TEMP VALUES 2006

1/8NPT

BOSCH F

BOSCH C

NEW VALUE

GM F

GM C

NEW VALUE

DALE F

DALE C

NEW VALUE

FORD F

FORD C

NEW VALUE

350

177

0

320

160

0

374

190

0

320

160

0

300

149

0

293

145

0

338

170

0

293

145

0

260

127

2

257

125

3

298

148

0

266

130

0

240

116

7

221

105

13

275

135

0

241

116

2

231

111

10

203

95

19

257

125

3

230

110

5

221

105

13

192

89

22

244

118

7

219

104

8

216

102

14

183

84

25

230

110

11

208

98

11

208

98

16

176

80

28

221

105

13

199

93

14

202

94

19

169

76

30

212

100

16

190

88

16

195

91

20

162

72

33

203

95

19

181

83

19

190

88

22

154

68

35

196

91

21

174

79

22

185

85

24

147

64

38

190

88

23

165

74

25

180

82

26

142

61

40

185

85

25

156

69

28

175

79

27

138

59

41

178

81

27

149

65

30

169

76

29

135

57

43

172

78

29

140

60

34

162

72

32

131

55

44

169

76

30

136

58

35

155

68

34

127

53

45

163

73

32

133

56

36

150

66

36

126

52

46

158

70

34

129

54

38

144

62

38

122

50

47

154

68

35

126

52

39

138

59

40

120

49

48

151

66

36

124

51

40

132

56

42

117

47

50

147

64

38

120

49

41

128

53

45

113

45

51

144

62

39

118

48

42

123

51

46

109

43

53

140

60

40

117

47

43

118

48

48

106

41

54

136

58

42

113

45

44

113

45

50

104

40

55

132

56

43

109

43

45

108

42

53

102

39

56

127

53

45

106

41

47

104

40

54

99

37

57

125

52

46

102

39

48

100

38

56

95

35

59

122

50

47

99

37

50

97

36

57

93

34

60

118

48

49

97

36

51

94

34

59

91

33

61

115

46

50

93

34

52

90

32

60

90

32

61

113

45

51

91

33

53

86

30

62

88

31

62

107

42

53

88

31

55

83

28

64

84

29

64

106

41

54

84

29

56

81

27

65

81

27

65

102

39

56

82

28

57

78

26

65

77

25

67

98

37

57

79

26

59

74

23

68

75

24

68

95

35

59

77

25

59

70

21

70

73

23

69

93

34

60

75

24

60

66

19

71

72

22

70

91

33

61

73

23

61

63

17

73

70

21

71

88

31

62

70

21

63

59

15

75

68

20

71

84

29

64

66

19

65

56

13

77

66

19

72

82

28

65

64

18

65

52

11

79

63

17

74

79

26

66

63

17

66

48

9

81

61

16

75

75

24

68

59

15

68

45

7

83

59

15

76

72

22

70

57

14

69

41

5

85

57

14

77

70

21

71

55

13

70

38

3

86

55

13

78

66

19

72

54

12

71

35

2

87

52

11

80

63

17

74

50

10

73

32

0

89

48

9

82

59

15

76

48

9

73

28

-2

92

46

8

83

55

13

78

46

8

74

25

-4

94

45

7

83

52

11

80

45

7

75

22

-6

96

41

5

85

46

8

83

43

6

76

18

-8

98

39

4

86

43

6

84

39

4

78

14

-10

100

36

2

88

39

4

86

36

2

80

10

-12

102

34

1

89

36

2

88

32

0

82

6

-14

104

32

0

90

28

-2

92

25

-4

86

2

-17

108

27

-3

94

25

-4

95

18

-8

90

-4

-20

111

23

-5

96

18

-8

99

10

-12

94

-9

-23

115

19

-7

98

14

-10

101

3

-16

99

-15

-26

119

14

-10

101

5

-15

107

-4

-20

103

-24

-31

125

5

-15

107

-2

-19

111

-13

-25

109

-33

-36

131

-4

-20

112

-15

-26

120

-22

-30

115

-43

-42

140

-13

-25

118

-27

-33

129

-40

-40

128

-50

-46

146

-31

-35

131

-40

-40

138

-58

-50

142

-60

-51

153

-58

-50

153

-58

-50

153

-76

-60

158
07/11/05 Engine Misses
Recently our 240SX turbo test car started to develop a miss around 4500 rpm under boost. This was intermittent at first then became progressively worse over the next few months. Fuel pressure and delivery volume was first checked static and it was fine however when checked at 40 psi, the delivery dropped off below what was required to feed the engine under boost. When a fuel pressure gauge was taped to the windshield and the car driven, the pressure would start to come up as the boost did, then start to fall off. This clearly showed that the pump was not putting out enough. We installed a Walbro 255lph kit but the miss still persisted. Every once in a while, the engine would run horribly even at idle and part throttle. Upon scoping the power inputs to the ECU, we found some large noise spikes which may have been resetting the coil pack processor, causing these misses. We tested various anti-noise solutions in the ECU and got most of this fixed. Sometimes the miss at torque peak came back however. Upon checking the spark plug leads which were about 6-7 years old and near the turbo, we found 2 with broken conductors. Replaced these, noise spikes were gone, misses were gone and it pulls all the way to redline again. Again, 2 basic problems happening at the same time, plugs wires and fuel delivery. Check the basics first.
06/27/05 Interference on 4F Coil Packs and ECUs
On two of our test cars, dirty power supplied to the new style coil packs have caused rough running problems and ECU resets. When the voltage supply was scoped, large noise spikes were evident. When we rewired the coil power and ECU directly to the battery via a relay, the problems disappeared. We recommend doing this if you experience these types of problems. The D manual contains a schematic for a typical hookup.
03/18/05 Option Relays
Many people seem to be having trouble getting the relay options to work on SDS. People expect to see voltage at the output of the computer's option wire. These outputs are ground switches so they do not "send out" voltage. Please follow the diagram carefully. On some relays there are 5 terminals, and the one that is in the middle is 87a which is not used but can be confused with terminal 87 which is used. Wrong hookup can damage the relay driver chip after several minutes of power being applied, since the chip temperature gets very hot. The relay driver chip contains thermal protection and current limiting, which does save the chip from instant failure in the case of wrong connections. If your relay does not work right away turn off power quickly and investigate.
As of January 21/05 and beyond it is okay to supply the option relays (+12V connection) with direct constant battery power. We have changed the ECU circuits so that power cannot leak through the relay drive circuits, which kept the ECU powered up on older ECU's. Of course it is recommended to have a fuse between the battery and the relay, and locate the fuse as close to the battery as possible in case your wire shorts to ground. Size the fuse according to the device being controlled.
03/04/05 D (fuel only) System Tach Signal Source on Cars With Coil Pack Ignitions
If you are having difficulty locating a compatible tach signal wire on these vehicles, you may be able to use an MSD PN 8913 tach adapter to supply the D system ECU with a suitable tach signal. The following web link may assist you in locating a tach signal wire: www.rostra.com/techsupport-main.asp
09/13/04 Crane XR700 Spark Box Compatibility
Several people have tried to use these to provide an SDS tach trigger signal without success. They ouput a very noisy signal causing multiple triggering of the SDS ECU and erratic running. We don't recommend the use of the XR700 with our systems.
Aug 20/04 For SDS Computers Specially Configured to Trigger MSD DIS-2 Ignition Boxes.
WARNING! YOU SHOULD NEVER USE THE MSD BYPASS PLUG FOR ANY REASON WITH THIS TYPE OF SDS SYSTEM. USING THE BYPASS PLUG WILL DAMAGE THE SDS DRIVER TRANSISTORS.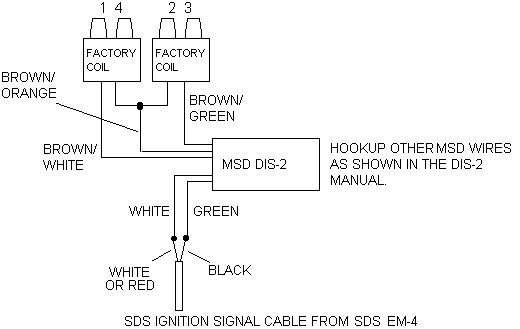 No other wires should connect to the SDS ignition signal wires. No tach adapters are required to make the SDS and MSD boxes produce a spark at the coils. If your factory tach does not operate with the DIS-2, you will require the MSD8920 tach adapter.
08/09/04 Data Logger Connections for MAP and RPM Signals EM-4 F Systems
We get many requests from people now who wish to connect a data logger to our systems. Most are concerned with getting rpm and MAP sensor outputs. The green tach output wire from the coil pack is generally configured for a 200V peak signal output at 2 pulses per crank revolution on 4F systems and 3 pulses per rev on 6F systems. By removing the bottom coil pack cover, this output can be re-configured to a 12V output by moving the marked jumper block from the 200V location to the 12V location. Some loggers will require a 5V signal. This can be tapped from pin 12 on the main ECU DB25 connector. You will have to solder a wire here. A MAP sensor signal can be tapped from the center pin on the MAP plug (green or white).
07/05/04 Importance of Fusing Components
Many of the damaged components that we have returned to us could have be saved if the user had installed proper fuses as recommended in the manual. This applies to 4F coil packs where a 7.5 or 10 amp fuse should be installed and a 15 amp on 6F coil packs. If you start blowing a fuse, DON'T install a bigger one, find out why it's blowing first. Installing a 15 or 20 amp fuse on the coil pack offers no protection and will result in fried drive transistors or fried coils if something goes wrong. We recently had an ECU returned to us in which a huge fire had started inside and completely ruined it (photo below). Obviously very high current flowed through this component for a long time to cause this type of damage indicating an unfused component somewhere along the line.
06/29/04 Concerns with Aftermarket Fuel Pressure Regulators
We have had several people over the past few years report problems with some aftermarket fuel pressure regulators. In most street applications, aftermarket FPRs are a waste of time and money and simply not needed. It is essential that the fuel pressure be accurately controlled for any EFI system to meter fuel properly. We have seen at least 5 instances now with Mallory FPRs in particular where fuel pressure was floating all over the place leading to no start conditions or inconsistent running. People usually blame the computer. If you encounter problems like this, check the fuel pressure by tapping a gauge to the windshield and drive the vehicle. The best course in many cases is to retain the OE FPR which are extremely reliable or use quality aftermarket regulators like we supply.
05/05/04 Remarking Magnet Ends
Some people have rubbed off the blue marking on their magnets while handling and mounting them. To find the marked end again, follow this procedure:
1. Power up the ECU with the Hall sensor plugged in
2. Wave a magnet over the black square on the Hall sensor (E) or the blue marked black square element (F) with the programmer in the magnet window screen.
3. If the display does not read SEEN, flip the magnet over and try again. The magnet end facing the trigger element of the Hall sensor which makes the display change to SEEN is the blue marked end.
4.Mark this end.
5. With the marked end facing up, the magnets will all stick together in a line with the marked end up. Mark all these ends accordingly.
03/15/04 Resistor Spark Plugs
For engines experiencing RPM ERR codes which cannot be solved by other means such as moving Hall sensor cables or changing spark plug wire types. You MUST use resistor type spark plugs with SDS.
01/13/04 Hall Sensor Reliability
We have a fair number of people complaining about problems with Hall sensors. Most of these problems are caused by poor brackets holding the sensors. If you can't lift your engine up by the bracket, it's likely not strong or stiff enough. We recommend using two bolts to hold the bracket to the engine (not one), the bracket should be made from 3/8 to 1/2 inch thick aluminum plate stock (not 1/8 inch flat stock) and needs to be as short and stiff as possible (not 4 inches long out in space from the attachment points). If you follow these instructions, you will likely have no problems EVER with the Hall sensor. Between our shop cars alone with SDS installed for the last 13 years, we have accumulated 40 years collectively of 100% trouble free performance from our Hall sensors. Most have never been touched in the 5-11 years they have been installed, none have ever been changed due to failure or damage.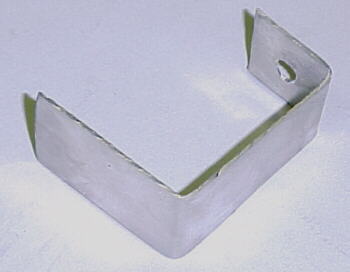 Proper bracket left. The one on the right won't work!
Read the Tech article on this subject for more info: Hints on Hall Sensor/Magnet Mounting EM-3
09/23/03 Mystery Timing/ Detonation Problems on Engines With Rubber Damped Crank Pulleys
We have seen several cases of unexplained detonation and ignition timing changes. These were caused be slipped harmonic balancers where the rubber portion has lost its bond on the inner or outer pulley sections, causing the outer section to rotate relative to the inner section fixed to the crankshaft. It's worth verifying that TDC on the pulley is actually TDC on the engine, otherwise your ignition timing may be way off.
08/13/03 Concerns When Using Multiple Throttle Plate Induction Systems
We have had many calls from people running induction systems with one throttle plate per cylinder and independent runner manifolds using our systems on street driven vehicles. These people often complain of marginal driveability under low throttle openings and/or low rpm conditions. We have never recommended the use of our systems with IR manifolds for the street, especially when using a MAP sensor for load sensing. The situation is worsened when combining this hardware with hotter cams, resulting in an unacceptable vacuum signal for the MAP sensor. This is race type hardware, generally not suitable for street use unless the user accepts decreased driveability and/or switches to TP load sensing
The vacuum averaging canister required on IR applications will result in a lower than actual vacuum reading than would be seen on a plenum type manifold setup due to the fact that all the ports which don't have a valve open to establish flow are leaking air into the cannister. There is no way around this and this is the reason why few OEMs use speed density EFI systems with this hardware, they usually use an airflow/mass sensing system instead. Also, 95% of all production cars use plenum type manifolds. Our general rule of thumb for using a MAP sensor in any street application is a minimum of 15 inches of idle vacuum. Less than this any you may have to switch to TP load sensing with its own disadvantages. Race stuff on the street is usually fraught with compromises often not worth the gains in power after you live with the car for a while. Big, open mufflers bore into your brain on the highway, hot cams make the bottom end, driveability, fuel economy and emissions suck, huge turbos have big lag and high compression/high boost leads to detonation and broken engines running on pump fuel. Use your noggin here and don't expect miracles.
05/07/03 Replacing Magnets
We have a fair number of people incorrectly install the magnets on E and F systems the first time. Some people attempt to pull the magnets out by heating the epoxy with a torch or heat gun. Heat over 250F will damage the magnets and reduce their flux strength. These should not be re-installed. Use new ones. It is important to remove all of the magnet fragments before installing new ones also. The EM-4 manuals give plenty of detail on how to install and verify proper magnet placement. Follow these directions exactly and you will save yourself a lot of trouble. Don't rush this job! Contact us if you are unsure before gluing them in.
04/09/03 Care and Feeding of F Coil Packs
We see a fair number of F coil packs damaged by 4 main causes:
1. No fuse on red power wire
2. Water damage to circuit board
3. Vibration damage to circuit board
4. Improper magnet or Hall sensor mounting

It's easy to avoid damage by following the manual. Use only a 7.5-10 amp fuse on the red power wire on the 4F coil pack (10 amps on 6F coil packs). Don't wail on the coil pack with a pressure washer or submerge your vehicle. Don't mount the coil pack to the engine. Make sure magnets are mounted correctly, sensor is aligned and sensor mount is REALLY stiff and strong.
04/09/03 It Won't Start!!
We have had many tech phone calls where the customer said the engine would not start. In all cases, the user reported that they had gone through all the troubleshooting sections without result. This section has been refined now for almost a decade and is very complete. IF you actually verify compliance with ALL points in the troubleshooting section, there is a 99.5% chance that the engine WILL start. Latest problems were no fuel delivery (item 13) and improper camshaft timing (item 16). Don't assume, actually check it and tick it off.
02/21/03 Ignition Timing Display Differences on EM-4
Ignition timing BTDC on the EM-4 has a - sign preceeding the value. Values ATDC have a + sign precceeding them. ATDC total timing values should normally be avoided as these are counterproductive to engine life and power. + values for boost retard are fine but would normally be limited to a maximum of +20 degrees. A K will appear behind the ignition timing value in Gauge 2 mode when the knock sensor is active. With excessive knock sensitivity or heavy knocking, total timing may go back past TDC and there will be a severe loss of engine power.
01/01/03 New Magnet Markings on E and F systems
As of Dec. 7/02 all magnets for E and F systems will be marked with blue instead of white. The EM-4 magnet materials were too slippery for the white marking material to adhere. This change is reflected in the latest manuals. This blue color is somewhat easy to rub off so be careful handling the magnets. If you stick the magnets together all blue ends will face the same direction so you can re-mark if you have one with the blue still visable.
12/13/02 Tach Problems on E Systems/F Systems With MSD DIS
If your tach won't work with these combinations, you may have to install an MSD tach adapter PN 8920. Do not use the 8910.
10/24/02 6F Plug Wire Connections
The first 6F manuals omitted spark plug wire connections to coil pack on 6 cylinder engines. Below is this information. New manuals are updated with this info now:
Different six cylinder engines have different firing orders. Three basic rules apply to all engines. These are:
1. Whatever cylinders fires first and fourth in the firing order should connect to coil A.
2. Whatever cylinders fires second and fifth in the firing order should connect to coil B.
3. Whatever cylinders fires third and sixth in the firing order should connect to coil C.

Example #1: 82 Toyota Supra. Firing order is 1-5-3-6-2-4. Cylinders 1 and 6 are the first and fourth cyls in the firing order so they should connect to coil A.
Cylinders 5 and 2 are the second and fifth cyls in the firing order so they should connect to coil B.
Cylinders 3 and 4 are the third and sixth cyls in the firing order so they should connect to coil C.

Example #2: G.M. and Nissan V6ís. Firing order 1-2-3-4-5-6 Cylinders 1 and 4 are the first and fourth cyls in the firing order so they should connect to coil A.
Cylinders 2 and 5 are the second and fifth cyls in the firing order so they should connect to coil B.
Cylinders 3 and 6 are the third and sixth cyls in the firing order so they should connect to coil C.

Example #3: G.M. 3800 V6. Firing order 1-6-5-4-3-2 Cylinders 1 and 4 are the first and fourth cyls in the firing order so they should connect to coil A.
Cylinders 6 and 3 are the second and fifth cyls in the firing order so they should connect to coil B.
Cylinders 5 and 2 are the third and sixth cyls in the firing order so they should connect to coil C.

These are examples. Your engine may be different. Donít guess at the firing order because damage could result.
10/22/02 Plug Gap on High Boost Applications
On engines operating under high boost/rpm conditions it may be necessary to reduce spark plug electrode gap to as small as .020 (0.5mm) to ensure proper ignition.
10/08/02 Coil on Plug Setups
Many people have asked if they can use the factory coil on plug ignition hardware with our F systems. Using the standard F coil packs is often a better idea. We can work with some Subaru COP units, notably EG33, EZ30, STI, GM, Ford, Honda and Nissan. We need to have a pair of coils to evaluate on the bench to determine compatibility and charge times for those we have not already tested.
08/22/02 Programmer Revisions
As of July 15/02 a new, microprocessor controlled LCD programmer has replaced the older unit. These are not compatible with systems using V10 or older software. To use a newer programmer you must upgrade to V11 software. Older programmers can be repaired or upgraded to a backlit version but cannot be replaced directly.
08/15/02 Damaged ECUs
We have seen several ECUs returned to us where the user has touched the case to +12V. This invariably fries a ground trace, requiring repair. Be careful, it's $30 plus shipping and downtime if you do this.
08/13/02 Ignition Wires
We have at least 7 reported cases of ECU ignition interference problems from people using Taylor ignition wire sets. Once replaced with a differrent brand, all these problems disappeared. As such, we cannot recommend the use of these wires with our systems. One user also reported severe RPM ERR codes and stumbling upon fitting replacement Bosch 7mm wires. The problems disappeared when the Accel wires were refitted. Our current recommendation is to use MSD Superconductor wrires and resistor plugs.
08/09/02 Fusing on F Systems
After some recent mysterious coil pack failures and returns, we conducted some more destruction testing of the F coil assemblies. It proved impossible to damage the coils or amplifier circuits by pulling plug wires off (not recommended). It was found that the proper fuse would protect the coils or drive transistors from failing even if power is left on somehow (this should be protected against by software limits). NEVER remove any ECU ground wires with power on. This can leave the outputs on and fry the coil pack.
Our recommendations for F coil packs:
1. Do not mount the coil pack to the engine.
2. Do not point a hose or pressure washer nozzle at the coil pack. Cover with a bag when washing.
3. Try to mount the CP with the wires facing down. This allows water to run down the wires, not into the case.
4. ALWAYS install a 7.5 or 10 amp fuse on the red power wire running to the coil pack (15 amps on 6F coil packs).
5. Do not connect coil power directly to the battery. It should go to switched 12V.
6. Never test for spark by pulling the plug wires off. Use the procedures on this page or in the manual.
7. Never pull computer, coil pack or injector ground wires off with the system powered up. This leaves outputs ON and can fry components like the coil pack or blow the injectors open and fill the cylinders up with fuel.
8. NEVER connect the coil pack power or ground wires UNTIL you have verified that all magnets are aligned and being seen for 3-4 degrees of crank rotation.
02/22/02 Increasing Spark Intensity on F Systems
Some users have reported that they encounter a lack of spark energy at higher boost levels using F systems. To solve this problems, 2 and 3 channel MSD DIS boxes can be fitted to F systems by using PN 8870 coil spacer blocks. These are inserted between the coil driver and coil. The wires can then go out to the DIS. This allows the use of the two step rev limiter feature and increases coil output substantially. Testing done on our Celica race car using standard 4F coil packs with no DIS showed no problem firing plugs gapped at .050 at 14 psi boost and 6500 rpm. Be aware that many DIS-2/4 users report serious interference problems. If you don't need the DIS box, better to save your money.
02/06/02 VVT, VTEC
We get many enquiries about whether SDS will drive certain variable valve timing or variable intake plate systems found on modern engines. At this time, we can only drive single stage (on/off at a certain rpm). This includes early VTEC, TVIS and VVT systems. The rpm switch option will not properly control iVTEC, multi stage VTEC, VVTi, VVTLi, VVL or Vanos.
02/05/02 It Won't Start!
We have recently had several people report no starting situations upon installing our systems. After much head scratching, these problems were traced to varnished up injector nozzles. In all cases, the engines had been sitting for 1.5 to 3 years. If you have spark and fuel pressure and the engine won't even kick, suspect plugged up injectors. Send them out for cleaning or invert them and put a few drops of acetone on the tips. Remember what the manual says "99% of all running problems are due to mechanical deficiencies". Don't blame the electronics until you have checked out the mechanicals. Don't assume anything when trouble shooting.
Another problem we have seen a few times is camshaft timing, especially on newly assembled engines and offroad engines where sand ingestion between the belt and sprockets is common. Check ignition timing, cam timing marks, compression and fuel delivery before calling us.
Lastly, check all your fuel cut limits. We have seen this problem many, many, many times. MAP and RPM fuel cuts and low values set wrong (low rpm, low vacuum) will ensure that the injectors don't open during cranking.
01/29/02 Porsche 911 Tach Problems
Some 6F users on Porsche 911s have reported that their tachometers don't work correctly with this system installed, others report no problems. Due to the unconventional ignition and tachometers used on some of these cars, it may be neccessary to have the tach modified. North Hollywood Speedometer can perform the modifications. Contact them at: Phone 818-761-5136, Fax 818-761-4857, E-mail- nhspeedo@the vine.net
09/16/01 Fusing/Wiring
Many people seem unsure about the purpose of fusing various components. The first thing that should be clarified is that fuses are installed to protect the wiring primarily, not the device, although is some cases, a fuse blowing may mitigate damage to drive transistors and coils for instance. Fuses are selected on the basis of current draw. Wire gauge is selected on the basis of current draw vs. the length of the wire. Longer run lengths require larger gauge wire. You should never use smaller than 18 gauge wire to connect the injector power or coil power wires. If the wire runs are over 6 feet, we'd recommend 16 or 14 gauge wire here. The ECU can be fused with a 1 amp fuse.
Recomended fuse amperages:
Injector power: 4 cylinder- 6-7.5 amps, 6 cylinder- 8-10 amps, 8 cylinder- 12-15 amps.
Coil power: E coils- 7.5 amps, 4F coil packs- 7.5-10 amps, 6F coil packs- 15 amps.
The recommended values are somewhat higher than the average current draw of these components but peak inductive loads make these necessary to avoid annoying fuse failures under certain conditions.
08/01/01 ECU Mounting Precautions
We see a fair number of ECUs shipped back to us which have suffered from water damage internally. ECUs are not waterproof and should be mounted inside the vehicle. Water generally seems to enter the ECU enclosure by running down the wiring, into the connectors. If there is any chance of water leakage inside your vehicle, mount the ECU with the connectors facing downwards. In boats and offroad vehicles, some kind of plastic box should be used to protect the ECU.
07/20/01 RPM Error Codes and Spark Plug Wires
Several customers have reported RPM error codes and missing on E and F systems when using Taylor, Nology, Sparko and most brands of solid core spark plug wires. As a result, we cannot recommend the use of these wires with our systems. Good success has been obtained with Magnecor, NGK, MSD, ACCEL and most OE spiral wound and carbon string type wires.
07/10/01 RPM Error Codes and Option Interference
Some users have reported RPM error codes being displayed when certain options such as the RPM switch, fast idle solenoid or fuel pump relay actuates. This sometimes causes a miss or ECU reset as well. Honda/Acura cars seem to have this problem frequently when using the RPM switch to actuate their VTEC systems. If you experience this problem, contact us and we can supply a clamping diode to eliminate the problem.
05/15/01 Fuel cut with TP
Several people have expressed confusion in using this parameter correctly. Normally if you wish the fuel to be shut off under closed throttle conditions, you should enter the TP value as one more than the closed throttle position. For example, if your closed throttle position in Gauge 3 mode is 8, enter 9 in the fuel cut with TP window. This will shut off fuel flow whenever the throttle position is less than 9 and above 1750 rpm.
02/19/01 EIC and EM-3D Tach Wire Hookups with MSD
When using MSD spark boxes with a D system, be sure to connect the green tach wire to the tach port on the MSD, NOT to the negative side of the coil. The digital filtering software will be upset by the multiple spark signal on the coil terminal.
02/19/01 Using Electromotive HPV-1, HPX with D systems
Due to the nature of the tach pulse delivered by the HPV-1/HPX, system triggering may problematical above 6000 rpm on V8 applications when used in conjunction with our systems. We have a quick fix for this problem which the user can perform to the ECU. Please call us for details.
F Coil Pack Mounting and Fusing
F coil packs MUST NOT be mounted to the engine due to heat and vibration concerns.
4F coil packs should be fused with a 7.5-10 amp fuse or circuit breaker, 6Fs with a 15 amp fuse.
---
11/13/00 Interference From MSD/HI6 Boxes
When mounting MSD or Crane HI6 ignition boxes inside the vehicle with the SDS ECU, care should be taken to mount these at least 3 feet apart. More preferable, is to mount the ECU on one side of the vehicle and the the ignition box on the other. Better still, the ignition box should be on the other side of the firewall and a few feet away as well. These boxes generate extreme EMI and RFI which can interfere with data transfer from the ECU to the programmer. In extreme cases, they can cause the ECU to reset.
10/31/00 Air Temperature/Fuel Temperature Considerations
It should be considered that other factors may be causing these running problems. Consider that gasoline boils at around 160F at atmospheric pressure and less than 200F at normal fuel rail pressures of around 40psi. Now consider how hot the intake manifold, injectors and fuel rails become in your engine compartment on a hot day especially if you have a non-crossflow engine with the exhaust manifold a few inches below your injectors.
Fuel density drops off considerably with temperature yet there is no fuel temperature sensor to correct for this. Additionally, if the fuel is boiling in the rail, the engine CANNOT run correctly. It is essential that fuel rails be plumbed so that hot fuel is constantly purged from the rail. This is accomplished with the fuel feed at one end of the rail and the regulator discharge back to the tank at the other end. In the case of vee or opposed cylinder engines with 2 rails, fuel should enter from the pump on one end of one rail and exit at the one end of the other rail. Fuel should never deadhead into the middle of the rail as hot fuel is not purged through the rail. Serious hot start running problems can result with improper plumbing. Steel fuel rails gather less engine heat than aluminum, so they are preferred. In extreme cases, a cooling fan as fitted to the Nissan L28 engines to blow air over the rails and injectors may be required. Keeping the fuel tank more than half full may reduce poor hot running tendancies as the fuel is being used as a heat sink.
09/14/00 MSD Hookups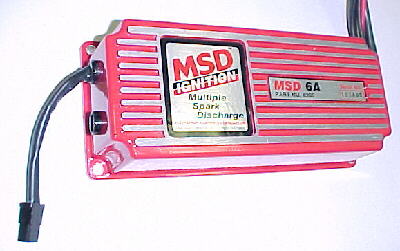 Installation of the MSD 6A spark box on E systems set up for a direct MSD trigger from the ECU is as follows:
Heavy black- Battery negative
Heavy red- Battery Positive
Black- Coil negative
Orange- Coil positive
Red- Switched +12 volts
White- SDS blue
Green/violet- Not connected

Tachometers can usually be connected to the tach port as seen above (right). Green/purple wires (left) are not used and must NOT be connected to the distributor.
Strange Misses 09/27/99
A couple of things which you can check if you encounter random misses: On distributor equipped engines, be sure to check rotor to cap terminal phasing. Take half of your total timing and position the crankshaft at this figure (about 20 degrees BTDC), line up the rotor with the cap terminal. This will ensure the least posibble gap within the operating range.
Excessive spark plug gap has been found to affect certain engines, especially if you are getting gibberish in the programmer LCD. Try closing the plug gap back to .030.
Other causes for misses may be Hall sensor wires too close to ignition leads, MSD too close to the ECU and using ignition leads with insufficient supression qualities. Solid core, Taylor and Nology are NOT recommended.
Hall Sensor Alignment
Hall sensor to magnet alignment is critical. If your engine idles fine but encounters a severe miss at a certain rpm every time, there is a good chance that the Hall sensor and magnets are not aligned well enough. Even if they register SEEN when the crank is turned by hand, they may be on the fringe and might be missed at higher rpm. You can check Gauge 1 mode, watching rpm as you rev the engine up to the miss point. If the rpm reading suddenly halves or changes radically at that point, alignment is the problem. If the sensor is properly aligned, you should be able to turn the crank at least 3 degrees before the window changes to NOT SEEN. If you only can turn the crank 1 degree before it goes NOT SEEN, you are on the fringe and need to reposition the sensor. The Hall sensor must be mounted to the engine NOT the chassis. Yes, we've actually heard of this being done. On newer systems, (V9 software and up) an RPM ERR code will replace the the RPM reading in Gauge 1 mode if a magnet is missed by the ECU.
04/05/00 E System Testing for MSD Equipped Systems
To test your MSD 6A/6AL for proper function, hook up the box to the coil as shown in the MSD instructions. Place the coil discharge wire about 1/4 inch away from ground. Power up the ignition and momentarily touch the white points trigger wire to chassis ground. When you do this, you should see a spark jump between the coil wire and ground. This verifies MSD function.
To test that the SDS ECU is okay, get an injector and connect one terminal to +12 volts and the other terminal to the blue wire on the main SDS harness. Power up the ECU. Turn the crankshaft by hand until a magnet passes the Hall sensor. If the ignition trigger is working, you should hear the injector click.
04/03/00 Fuel Contamination
We have had 3 reports of customers experiencing serious tuning difficulties with their SDS units. All 3 had previously had their engines running well, then after some time, the engines were running poorly and no amount of tuning seemed to help. In two cases, serious amounts of water (several gallons) was found in the fuel. In the third case, the car had sat for about 6 months and the fuel was found to be highly oxidized or contaminated (it was brown and murky). Draining the tanks and fresh fuel solved all of these problems. Yet another case of "it's not the computer syndrome". If the engine ran right before then it suddenly doesn't, check those grounds, fuel pump delivery and pressure, spark plugs and wires, cam timing and take a fuel sample. Water will sit on the bottom of a glass jar. A fourth case found scum inside the tank and covering part of the fuel pump screen. This car exhibited severe hitching from time to time and intermittent engine shutdown. Octane booster and methanol had been added for track sessions. These compounds may have reacted to form this scum in the fuel tank.
03/16/00 F Coil Testing
Some people have reported difficulty in understanding how to test F coils for spark. Below are 2 photos showing simple setups to test for spark. Use the procedure in the F manuals. We hope that this clarifies things for readers.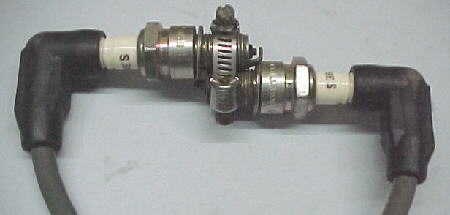 Clamp two plugs together from each coil with a hose clamp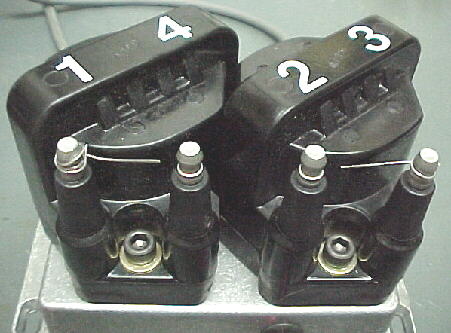 Wrap a short piece of wire around one coil terminal on each coil and leave a 1/4 inch gap
Crank Timing Accuracy on E and F Systems
Reference was made in a magazine article written by one of our competitors comparing multiple input timing signals vs. the 1 magnet per cylinder per crank revolution system used on SDS and many other EFI systems. This article claimed that systems using the latter method tend to hesitate when the throttle is opened quickly. This statement has no basis in fact.
While the multiple input signal method does produce higher timing accuracies due to a higher sampling rate, with proper software in place, method 2 typically is capable of providing timing accuracies of + or - 2 degrees even during maximum acceleration in neutral and less than 1 degree variations when the car is in gear. Since very few engines noticeably respond to changes of less than 2 degrees, this would appear to be perfectly acceptable. You can't see differences of 1/4 degree with a timing light and the engine certainly can't tell the difference between 30 degrees and 30.25 degrees.
Bosch and Nippondenso L Jetronic and Ford EEC designs number in the tens of millions using method 2. Obviously, these do not hesitate when accelerated rapidly. Timing accuracy on some of these distributor triggered systems left something to be desired, especially when the distributor was driven off of a camshaft with a rubber timing belt, yet these engines run just fine.
The SDS E and F systems use tiny magnets mounted in the crank pulley running by a Hall effect sensor for triggering. This method and hardware was chosen because the crank pulley was factory engineered to stay on the engine whereas a toothed disc may not, especially on engines with high torsional vibration such as large 4 cylinder and most straight 6 cylinder engines. The Hall effect sensor also tends to be much more reliable than most magnetic sensors.
In 22 years of operation, we have never had a Hall sensor failure on our E or F systems which couldn't be directly attributed to physical damage to the sensor. Check around and see how reliable our competitor's multi-toothed wheel and magnetic sensor hardware is.
If you plan to fit used injectors to your latest project, ALWAYS flow test them to verify flow rate, leakage and spray pattern. If you install crappy injectors, you will get crappy results. The computer has nothing to do with problems related to bad injectors.
Ignition Wires
Proper operation of the SDS ECU requires the use of radio suppression type ignition leads. SOLID CORE WIRES CANNOT BE USED. Resistance type wires should measure a minimum of 3,000 ohms per foot. We highly recommend MSD Superconductor wires. We don't recommend the use of Taylor or Nology wires with our systems.
Quick Injector Sizing
For quick determination of injector size, multiply flow rate in cc per minute by the number of injectors. Divide this number by 7. This will give the maximum hp possible at 85% duty cycle. Example: 4 x 500cc = 2000. 2000 divided by 7 = 285 hp.
Another formula to figure out maximum power per injector flow rate is:
Injector flow rate in pounds per hr. x the number of injectors, divided by 0.55.
For a quick lookup chart: techffhp.htm
---
FAQ or frequently asked questions
Q. How do I hook up the injector wires? 06/18/03
A. Injector wiring order is not important so you may connect them any way you wish.
Q. I notice that my temperature gauge does not read the same as the SDS LCD screen. Why is this? 06/16/03
A. The water or CH temperatures are in the system for starting and warmup. As such, they are biased in smaller increments on the cold end of the total range. No fuel is normally added above about 120F on most engines so the ranges above this are relatively unimportant and the steps are very far apart above 160F or so. The system will not latch the next higher range until it actually reaches it so if you are in between those two ranges, the LCD will read lower. If you see 230F on a water cooled engine in the LCD, you better shut it down. Readings between 160 and 194F would be normal on most engines fitted with a thermostat.
Q. What kind of tach signal does the D system require?
A. The D system requires a clean signal between 5 and 200 volts at a frequency of 2 pulses per crank rev on a four stroke, 4 cylinder, 3 per rev on a six and 4 per rev on an 8. The closer to square wave the better.
Q. What is the determining factor when deciding to use MAP or TP load sensing?
A. We usually say that when the engine will not pull more than 15 inches of idle vacuum, you want to consider using TP.
Q. I am having serious problems with RPM ERR readings on an EM-3 4F system. What can you suggest? 09/13/02
A. The magnets need to be aligned with the sensor properly and seen for 3-4 degrees of crank rotation when testing by hand. Magnets must spin over the black squares near the end of the sensor. Magnets should have 1.5 to 2.5mm clearance from the sensor face. The Hall sensor mount must be stiff enough to attach your engine hoist to and pick up the engine- really rigid. A crappy mount will vibrate and the magnets will not pass over the sensor elements properly. Separate the Hall sensor cables from close proximity to alternators, plug wires, electric fan motors, MSD boxes or any other high current/ high voltage sources. Rotor phasing is important on E systems and even wide plug gaps have caused problems on certain engines. Lastly, use proper plug wires, carbon string OE types, NGK, MSD, DO NOT use Taylor or Nology wires.
Q. Do you still support the EM-1, EM-2, EM-3 and EM-4 systems? 05/03/01
A. Most parts of the EM-1 can usually be repaired although some parts are no longer available. This system has not been sold for about 20 years. We can fix and supply most parts for the EM-2 still. We no longer have any EM-2 ECU boards or trigger magnets. In the case of magnets, EM-3 Hall sensors and magnets can be fitted to EM-2s. In the computer/electronics industry, technology quickly marches on with many new advances. The EM-1 could be compared to a 386 processor. It works, but is obsolete by todays standards and parts are very hard to find. We do try to help anyone that has a problem with any of our earlier systems, just give us a call.
Q. I am concerned about the reliability of your Hall sensor and magnet setup. Also, can your magnets be mounted into steel and cast iron pulleys? 03/17/01
A. The Hall effect sensors are 100% reliable in our experience. We have never had a failure on these unless the magnets or pulley has struck the sensor or the wires have been cut or melted somehow, which can't be blamed on the sensor. The E and F systems have accumulated millions of hours of trouble free performance world wide. As long as you have mounted the sensor on a proper bracket as per the manual, you should not experience any trouble.
The rare earth magnets can be mounted to either the front or rear face on the crank pulley or flywheel. These may be steel, cast iron or aluminum. We have experienced no loss of magnetism on our street installations to date. Some of these have been running for 17 years using cast iron pulleys.
Q. How can I tell if my throttle body is big enough? I have a Nissan L28. 02/22/01
A. If you have an SDS unit, you can monitor MAP in Gauge 1 mode. Rev the engine out at full throttle and note the MAP. If the TB is too small, you will see the vacuum start to increase at higher rpm. Ideally, you should not see any higher vacuum at high rpm as what the MAP sensor reads in Gauge 1 with the engine not running. If you see -2 inches with the engine stopped and -4 inches at full throttle and 5000 rpm, the throttle body is restricting airflow and hp. The stock L28 TB is extremely small for an engine of 2.8 liters and is certainly costing some power at higher revs.
Q. Why don't you offer sequential injection systems? 02/16/01
A. Sequential injection was designed mainly to meet emissions specs on OE applications where much of the test cycle is at low rpm and part throttle. Our system is designed mainly as a performance system and sequential systems typically show little or no gain in hp. Additionally, the wiring becomes much more complicated, the computer and software become more complicated (expensive) and the user needs to know a lot more about his engine and camshaft specs. The first part of our name is Simple. This would not be simple and we can't justify this added complication and cost for no gain in performance. If emissions are a concern, it is hard to beat the OE system. For a more detailed explanation: Sequential Injection Realities
Q. Do I need an adjustable fuel pressure regulator with your system and what pressure should I run? 02/08/01
A. Factory non-adjustable pressure regulators are fine for most applications. Any regulator that has a vacuum reference port will also work for turbo applications, adding 1 psi of fuel pressure for each psi of boost pressure. Most factory regulators have a working pressure of 38 to 43.5 psi at wide open throttle (no vacuum). This is fine for most applications. Since the pulse width is adjustable with SDS, there is no need for high pressure or rising rate regulators, in fact, we don't recommend these. The proper injector flow rate for the required hp should be used. We have seen many problems with aftermarket FPRs. You just don't need to change these on most sane street applications. For a quick lookup chart: techffhp.htmWe like to use '86 and up regulators from Toyotas, Subarus and Hondas as these are compact and reliable. Check out: Fuel Pressure Regulators
Q. I read the terms "closed loop" and "open loop" frequently in articles on EFI. What do these mean? 12/19/00
A. Closed loop mode is when the ECU is taking a mixture reading off of the oxygen sensor and correcting the air/fuel ratio automatically. The ECU adds fuel if the sensor reads too lean and vice versa. This mode is generally used for part throttle operation and is mainly for emissions purposes.
Open loop mode is where the ECU is operating off the programmed values in the ECUs memory. The oxgen sensor input is ignored. Running SDS in open loop mode will usually result in better fuel economy and driveability than in closed loop if programmed properly and if emissions are not a concern. For more information on these modes read the Closed Loop Feedback Control section in the D manuals.
Q. I have a Toyota Supra equipped with the factory L Jetronic type EFI and would like to replace it with SDS. What happens to the cold idle control and a/c idle speed control? What other things should I know? 12/05/00
A. Most L Jet cars use either a coolant heated or electrically heated air bypass system to increase idle speed when the engine is cold. This is independent of the ECU. If you use a MAP sensor with your SDS, the operation of this is unaffected. Most L Jet engines also use a bypass solenoid connected to the a/c to increase idle speed when the a/c clutches in. This should also work as before if you use a MAP sensor. The L Jet switch type TPS will have to be changed to a potentiometer type one for use with our system. Removal of the air flow meter disables the factory fuel pump relay circuit as there is a microswitch on the airflow door. You can use our fuel pump relay option to control this or short the switch wires together and have the pump run constantly with the key on.

Factory Bosch air idle bypass device
Q. I seem to be having trouble with a a noisy tach signal feeding my D system. The RPM reading in gauge mode is erratic. What can I do about this? 10/31/00
A. The D systems already have considerable analog and digital filtering to alleviate these problems. Sometimes the tach signals from coil or ignition box are so dirty or noisy that our system cannot deal with it. This would explain the erractic RPM readings in Gauge 1 mode. D systems can be fitted with the E Hall sensor and crank magnets to give the ECU a proper, clean tach signal. This is a certain fix in most cases.
Q. Does my TPS have to be set at a specific ohms reading at closed throttle? 09/01/00
A. For systems using a MAP sensor, the TPS does not need to be set in any specific position as the ECU only looks at the rate of change for acceleration enrichment. For systems using the TPS for load sensing, we recommend that it be set up between position 1-15 at closed throttle. In both cases, it is important to ensure that the TPS does not bottom out or bind at closed and wide open throttle.
Q. Space is limited on my car to mount the F coil pack. Can this be mounted to the engine? 08/25/00
A. We recommend that the coil packs NOT be mounted to the engine due to vibration and possible heat concerns. You will have to find room for it somewhere in the engine bay. We can provide other engine mountable coil packs if needed.
Q. How does the rev limiting function work on SDS? 07/27/00
A. Our system shuts off the fuel completely at the programmed rpm. This prevents fuel from exploding in your exhaust system and cools the cylinders by allowing only air through the engine.
Q. Does the programmer need to be connected to the ECU at all times? 06/19/00
A. No, the programmer may be disconnected when you are done setting up your map.
Q. I am building a 350hp Talon engine and want to know how big my fuel line should be. 04/12/00
A. The stock fuel lines will be fine in your Talon for this hp level. Many people waste hundreds of dollars installing 1/2 inch braided fuel line in EFI cars. You can pass enough fuel through a stock 5/16 line at 40 psi to feed 450+ hp with no problem. The same goes for fuel pressure regulators. The stock type ones are just fine up to 500 hp in most cases.
Q. I installed your system on my car and the engine idles at 2000 rpm. Why is it doing this? 02/09/00
A. Our system has no active idle speed control. Either your stock AIC valve is partially open or the throttle stop needs adjusting. Excessive idle speed is caused by too much air going into the engine. Check for leaks, AIC valve or linkage problems. We have even seen a shop rag stuck in the throttle plate a couple of times. A quick way to check whether the throttle plates or leaks are causing your high idle speed is to put your hand over the throttle body opening at idle. If the engine stops, the problem is at the butterfly. If it continues to run, the problem is a leak elsewhere.
Q. I have an aftermarket turbo kit on my Toyota 4AG and it detonates if I turn the boost up over 8 psi. Will your system fix this problem? 02/04/00
A. Your kit was probably designed for boost pressures of under 7 psi. The 4AG has a high compression ratio and the factory injectors max out at around 160 hp. The engine is likely leaning out under boost which is a dangerous situation. Your engine is telling you that it doesn't like the high CR, boost and low octane fuel. Even by retarding the spark substantially, you cannot run very high boost with any setup and still produce good power. Bottom line: High CR and high boost don't mix on pump fuel. I would find a 4AGZ shortblock with its 8 to 1 forged pistons if you want to do this right. Adding a programmable EMS with fuel and spark control would then allow you to extract its full power potential.
Q. Why do the magnets pass the Hall sensor at 80 degrees before TDC on your E and F models? 01/14/00
A. After the magnets cross the sensor, the ECU needs some time, especially at high rpm, to calculate and still fire the spark at 30 to 40 BTDC.
Q. I was looking at a site advertising EFI systems for popular American cars and it said that maximum fuel consumption occurs at torque peak. Is this true? 12/11/99
A. I'd like to see this site. Absolutely false. Peak fuel flow generally occurs at or near peak power depending slightly on AFRs and BSFCs.
Q. I have an engine with a 10 to 1 compression ratio and want to turbocharge it. Which system would be best for my needs?
A. If you plan to run this CR and a turbo, you will need to retard the timing under boost substantially so either the E or F system would be the best choice. The chances of making much power on pump fuel with such a high CR are not good. Too much ignition retard will kill off a lot of power. Better to lower the CR a bit. For more info: meltdown.htm
Q. What are the most frequent installation and tuning problems encountered with your system? 08/12/99
A. The most frequent reason that the engine fails to start after SDS installation is probably people neglecting to hook up power and ground wires to the injectors, drivers and coils.
The most common tuning problems are from people not reading and understanding the manual. They start changing manifold pressure values without understanding what they are doing and quickly end up with a big mess. Other people program the MAP values flat and slope up the RPM values, again, contrary to bold typed warnings in the manual.
The last major problem is with people improperly installing magnets and Hall sensors. The Hall sensors are 100% reliable if they don't get struck by the magnets or pulley. We sell a lot of replacement Hall sensors because the magnets struck the sensor due to insufficient clearance or bracket flex or vibration. Again, people are not paying attention to the recommended mounting and clearance instructions.
Q. How much boost can I run on the street with SDS? 07/21/99
A. Although SDS can be configured to run up to 30 psi of boost for racing purposes using a 3 Bar MAP sensor, we don't recommend this for street use. The sensor resolution of the 3 Bar sensor is relatively poor compared to the 2 Bar one which makes programming for good driveability more difficult in many cases. Fuel economy will also suffer somewhat with a 3 Bar setup. In any case, most engines cannot effectively run over 15 psi of boost on pump gas without encountering detonation or having to resort to massive amounts of ignition retard which reduces the power output considerably. The 3 Bar setup is intended primarily for racing where lowered compression ratios or high octane fuel is employed.
Q. Can the F system fire 2 spark plugs per cylinder? 04/21/99
A. With the addition of a second coil pack, the F units can fire two plugs per cylinder. They have been applied to Toyota, Nissan and Porsche 2 plug engines.
Q. Can I use my factory knock sensor with SDS? 04/16/99
A. We are able to use most OE knock sensors with the EM-4. Using your factory sensor will reduce the knock option price down to $30US. Using the factory sensor is usually preferable since it is tuned for the knock frequency of your engine and is located in a good position for sensing without "hearing" other noises.
Q. How can I find out what my injector impedance is? 04/13/99
A. The simpliest way is to put a digital ohmmeter across the 2 electrical leads on you injector. Low impedance injectors usually measure between 1.7 and 3 ohms. High impedance injectors are usually between 12 and 16 ohms.
Q. What is the mapping resolution on SDS? 04/02/99
A. E and F systems offer control of around 335 parameters. RPM ranges are 250 apart on systems set up to go to 9750rpm and 400 apart on systems set up for 15,000 rpm. 64 load points allow the following resolutions depending on the MAP sensor used; 1 Bar= .469 in. hg/location, 2 Bar= .9375 in. hg/location, 3 Bar= 1.406 in. hg/location.
Q. Will the SDS EM-4 work on engines with siamesed ports?
A. No. Volkswagen single port, MG, Austin mini and some Subaru EA-81s are examples of engines with siamesed ports. SDS needs 1 intake port for each cylinder and 1 injector per cylinder.
Q. What is necessary to convert my carbureted engine to EFI?
A. First, a suitable intake manifold must be either modified or retrofitted. Some older carbureted engines have a later, factory EFI version which may have an intake manifold that can be bolted onto the early engine. Chev TPI systems are in this category. This type of conversion will save a tremendous amount of work and money as they are usually available with the throttle body, injectors and fuel rails.
If no EFI manifold is available, you can often use the carburetor manifold and weld injector bosses onto the runners. Then, you must fabricate a fuel rail or rails to hold the injectors in place and supply fuel. The carb can often be used as the throttle body simply by disconnecting the fuel line and mounting a TPS on the shaft.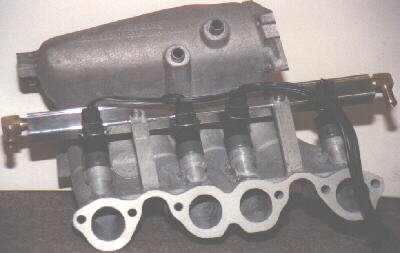 If you can't use the factory carburetor and manifold or if it is a really crappy design, you may have to fabricate the entire manifold from scratch. On inline 4 cylinders, this is some work but not too hard. Runners can be made from steel or aluminum tubing and the plenum from a larger piece of tubing of around 4 inches in diameter. A throttle body from any EFI car can be attached to the plenum and a flange to mount to the head is made from plate stock. All of these pieces can be jigged to a scrap head and TIG welded to form a good flowing, lightweight manifold. Check out the Tech article on building manifolds on the Tech links and Aircraft Page for more ideas and photos.

In addition to the manifold, you will have to fit a high pressure EFI pump, fuel pressure regulator and return line from the regulator back to the fuel tank. For more info: techinta.htm and air12.html

Q. Does SDS piggyback my stock system or is it stand-alone?

A. EM-5 systems are designed to entirely replace the stock EFI system. You can retain your stock fuel hardware like pumps, injectors, regulators etc. On most cars built after 1984, the stock TPS can also be used. It is important to note on later vehicles that many dash and emission functions are often carried out through the stock ECU and you will lose these functions when discarding the stock ECU. On many turbocharged cars, the wastegate is controlled by the ECU so you will have to fit a separate boost controller in this case.

Q. What is a MAP sensor and why are there 3 different ones?

A. A MAP sensor senses the pressure in the intake manifold. When combined with rpm information, it allows the ECU to compute airflow and supply the correct pulse width to the injectors.

We sell 3 different MAP sensors to cover engine applications with different boost levels.

The 1 Bar sensor is for naturally aspirated engines.
The 2 Bar sensor is for engines running up to 15 psi boost.
The 3 Bar sensor is for engines running up to 30 psi boost.


Map sensors are referenced to an absolute vacuum internally so they compensate for altitude and barometric changes automatically. MAP sensors simply connect to your intake manifold with a length of vacuum hose.

Q. Will SDS work with wild camshafts?

A. In practice, SDS has been made to run well on engines with cams having up to 310 degrees of duration. On one 4 cylinder 1700 cc turbo engine having a 286 degree camshaft and only 4 inches of idle vacuum, the engine would idle for prolonged periods at under 400 rpm and still had flawless throttle response making 360 hp at 15 psi boost. For street applications, having less than 15 inches of idle vacuum may complicate tuning. TP load sesning may be required in these cases.

Generally speaking, engines with large intake plenum volumes will run quite well even with long duration cams. For engines with more radical camshafts or individual throttle plates, it may also be necessary to use the TPS for load sensing instead of a MAP sensor.

Q. How large of an injector can I run on my engine with SDS?

A. As a rule of thumb, most engines will tolerate an injector flowing about 1.5 times the volume of 1 cylinder. For example, a 2000cc 4 cylinder engine with 500cc per cylinder will tolerate an injector of 750cc/min. maximum. This would be for race use only. Don't expect a setup like this to run like a stock engine on the street or give super mileage.

Q. How easy is SDS to program?

A. SDS units are shipped with values in place based on your injector flow rate and engine size. This is usually in the ball park and allows the engine to be started with the aid of the mixture knob which can add or subtract 50% to the programmed values. Once the engine is started and warmed up, the programmer is used to richen or lean the appropriate values and allows the knob to be returned to the 0% position. The gauge modes allow you to identify where the ECU is operating and change any values which cause running problems.

Generally, people with a reasonable understanding of engines and the SDS unit can have an engine running well in less than 1 hour. Fine tuning the start, warmup and part throttle cruising conditions for best fuel economy can take somewhat longer, perhaps 2 to 6 more hours in most cases. A wideband mixture meter is highly recommended.

Q. What is sequential EFI and is it important?

A. Most modern factory EFI systems and some aftermarket systems are sequential. Sequential fuel injection tries to time the injection event with intake valve opening. The advantages are slightly cleaner emissions and slightly better fuel economy at part throttle. Typically, there is little or no improvement in power. On performance applications, there is little difference between batch fired and sequential systems because the injector pulse width needed at high power settings is longer than the intake valve open period anyway. Under these circumstances, both types of systems are spraying fuel against a closed valve. True to its simple, low cost design philosophy, SDS is a non-sequential system. For more info: Sequential Injection Realities

Q. Will spark plug wires really add hp?

A. Despite ads by certain wire manufacturers claiming increased power from their wires, this is not a reality. Unless your present set of wires is old and damaged causing misfires, these magic wires are not going to increase power.

Q. I have a Crane HI-6 or MSD Ignition box. Will it work with SDS?

A. Yes, it is compatible with the "D" and the "E" systems. The "D" system will work normally without any modification. The "E" system controls ignition timing and therefore the computer needs to be configured to drive the Crane or MSD. This will combine SDS programability with the more powerful spark from the Crane or MSD.
---
| Home Page | Product Specifications | CNC'd Parts | Programming and Installation Manuals | SDS Advantages | Price List |